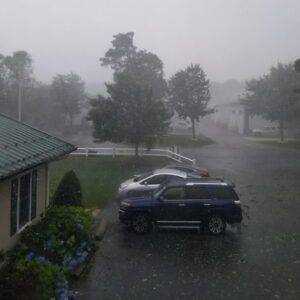 When you think of Cape Cod, Massachusetts what sort of weather dangers come to mind? Hurricanes and Nor'easters are common answers, but "tornado" isn't common at all. Seeing the aftermath of this week's high grade EF1s that impacted Yarmouth, Dennis, Harwich, Chatham and surrounding areas, that may change. Although Cape Cod wasn't specifically prepared for the sudden impact of the rare weather event, the response of the towns and first responders was fantastic and thankfully no serious injuries have been reported.
Once the storm had passed the sun came out for a moment allowing us a quick peek of blue sky. Although that tempted people to want to walk about and survey the aftereffects, local authorities urged everyone to stay inside. The hours after a natural disaster are the most crucial for restoration efforts. Immediate dangers need to be assessed, unsafe/impassible roads need to be blocked off and detour points need to be established, medial emergency responders need to be able to safely navigate the labyrinth of streets, utility emergency responders need the limited routes as clear as possible as they work to assess services, and as the tree blockades are found they need to be accessed quickly by fellers (because no one in need of an ambulance wants them stuck in a labyrinth of downed trees!). In addition to all that, downed wires are deadly and until they've been identified and secured it's simply not safe.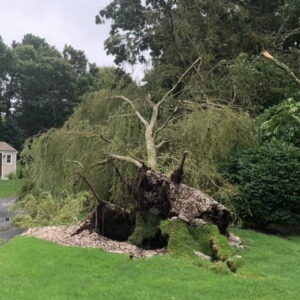 With any natural disaster first you assess and secure, then clean-up and restore. Any serious wind event brings a surge of calls to professional restoration companies from property owners who've had trees fall on their home or business. The first thing to do is remove the tree from the structure. Once that is safely done and the tree is on the ground it's important to immediately board-up any openings it created. After the property has been secured then it's time to assess the interior damage.
When it comes to insurance coverage this is where things can vary significantly from owner to owner. The deductible on a policy is the portion you are personally responsible for paying out of pocket on a claim. Some policies have a special wind deductible that is different than the standard policy deductible (and often quite larger). If you have a wind deductible on your policy and the wind of the storm toppled a tree on your home then that's the deductible you'll be looking at paying with your claim. Other policies may narrow the criteria of the special deductible to hurricanes and named storms, not all wind events. An interesting exclusion we've run into on some calls is that although some insurance companies may include the cost to remove the tree from the structure in the claim, removing the tree from the property may not be included and then it's up to the homeowner to get it chopped up and moved away (or stacked to season for cozy winter fires). These variables and this week's storm are reasons why our monthly maintenance checklist schedule has you review the different deductibles of your policies with your agent at least once a year.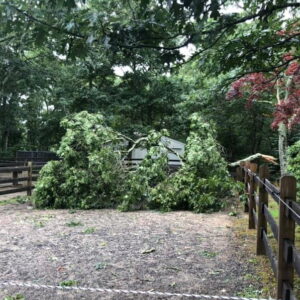 The support and acts of kindness seen and heard around the community have our hearts overflowing. Let's keep that strength showing. If you see a first responder, thank them. If you're still without power, be patient. Crews are still working around the clock to get you back up and running. A smile and snack will help them do that more than any complaint ever will. If you've offered a helping hand, even something as simple as checking in on your elderly or ill neighbors, thank you!
Have any questions about emergency board-up services or natural disaster response? Send us a message or give us a call! Sharing and supporting the #CapeStrong spirit? Show us on Facebook or Twitter! @whalenrestoration @whalenservices